Uh, hi.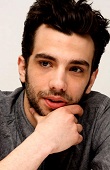 I'm -- *he clears his throat* My name is Melvin Cross, you might know me as "Glasses" or "The Brain". Look, we might not seem like much, and we might not have any powers, but there's still a way for us to fight back against these people! We
know
this city! We know it's ins-and-outs, we know its secrets, and I'll be damned if we let these aliens have it! Sure, we're normal people, we're not trained to fight - heck, the only time I've ever even held a sword was when I was LARPing, but that doesn't mean we're useless! The way to win this war is through extraordinary actions by ordinary people! So we have to fight back!
We're looking for people just like you. People who know and love this city, people who are good at, well, *he scratches the back of his head* anything really. *he shrugs* Cooking, Writing, hacking, climbing, foraging -- it's pretty much 'You can do that? Great!' around here. And we are reconnecting people. *he turns around and points to a large collection of bulletin boards, obviously scavenged from adjoining apartment buildings, overfilled with pictures and notes* If you've lost someone... you might have luck looking there. We're directing people here all the time - we've got food and medicine, though we might lack proper doctors, and we're setting up trading stalls and such. And if you want to help, well...
Welcome to the Resistance.
ooc:

Thanks for becoming a citizen of Broken Star City! As you go about your business, be on the lookout for members of the Star Resistance, or the "Novas", as Melvin is trying to rename it. If you choose to join their ranks, you might be asked to go on missions for the good of the people - whether foraging deeper and deeper towards New Nemesis, guarding people on the move, setting up surveillance, or repairing systems already in place, Melvin, "The Brain" is always looking for new people to help out.

But don't think that means you'll automatically make it into his inner circle, or find the true headquarters for the resistance right away.

If you have any questions, search out Ash Campbell or Tesherin; they're usually in the know.
.